Ubuntu MATE 17.04 Alpha 2
---
---
Этому посту больше года и, возможно, он устарел.
We are preparing Ubuntu MATE 17.04 (Zesty Zapus) for distribution on April 13th, 2017 With this Alpha pre-release, you can see what we are trying out in preparation for our next (stable) version.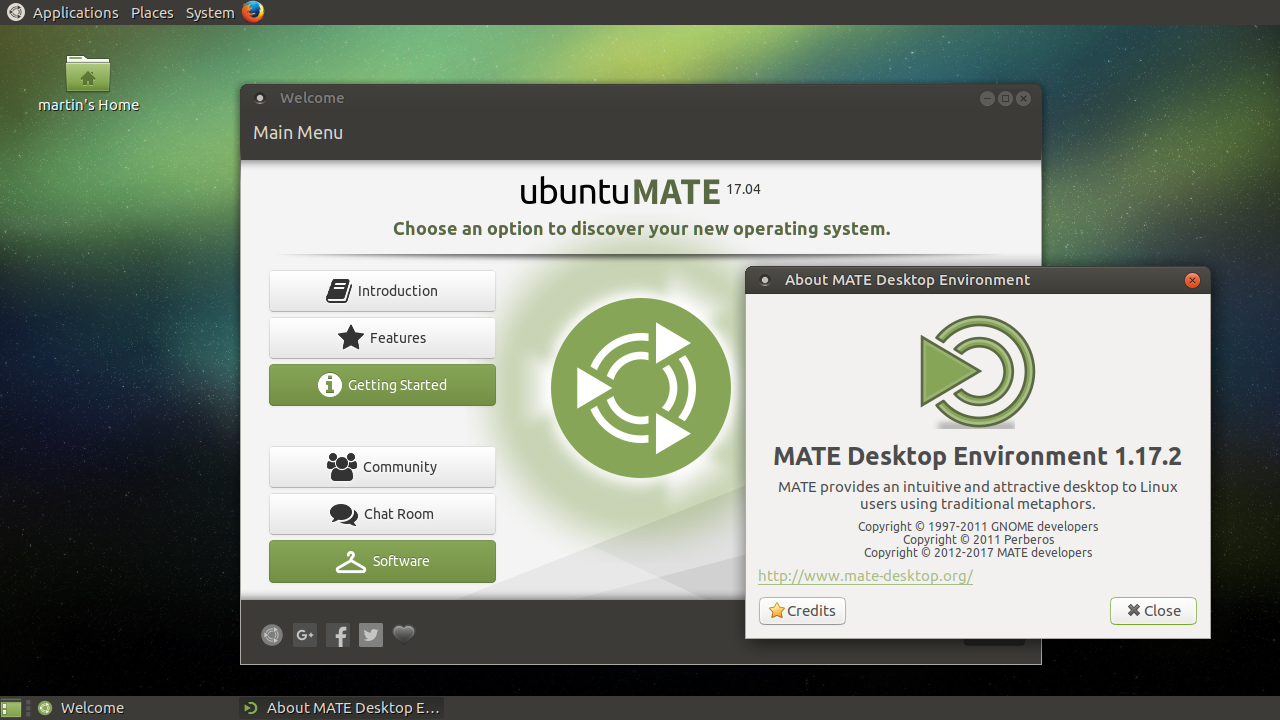 What works?
People tell us that Ubuntu MATE is stable. You may, or may not, agree.
Ubuntu MATE Alpha Releases are NOT recommended for:
Regular users who are not aware of pre-release issues
Anyone who needs a stable system
Anyone uncomfortable running a possibly frequently broken system
Anyone in a production environment with data or workflows that need to be reliable
Ubuntu MATE Alpha Releases are recommended for:
Regular users who want to help us test by finding, reporting, and/or fixing bugs
Ubuntu MATE, MATE, and GTK+ developers
What changed since the Ubuntu MATE 16.10 final release?
This is what have been updated or added.
Upgraded to MATE Desktop 1.17.2

The MATE Desktop 1.17 development snapshots are what will become the next stable release of MATE Desktop.

Caja and Eye of MATE are both still 1.16 in Alpha 2, newer versions should land via updates soon.

All the legacy GTK2+ code has been completely removed from the entire project.
Features full support for libinput, a modern library to handle input devices such as mice, trackpads and touch screens for Wayland and X11.
mate-panel now supports desktop actions.
Eye of MATE and Pluma have been ported to libpeas, which means all the plugins are back!
Many, many, bug fixes.
Translation updates.

Upgraded to Ubuntu MATE Artwork 17.04.1
Upgraded to Ubuntu MATE Welcome 17.04.1

Updated the Software Boutique for 17.04
Update the DVD playbackback install to support DVD and Blu-ray.
dconf-editor is no longer pre-installed but has been added to the Software Boutique.
Updated translations.

Dropped PowerPC
The .iso images are approximately 200MB smaller.
Download Ubuntu MATE 17.04
Join the fun and experience a retrospective future.
Download
Known Issues
Here are the known issues.
Ubuntu family issues
This is our known list of bugs that affect all flavours.
You'll also want to check the Ubuntu MATE bug tracker to see what has already been reported. These issues will be addressed in due course.
Feedback
Is there anything you can help with or want to be involved in? Maybe you just want to discuss your experiences or ask the maintainers some questions. Please come and talk to us.
Комментарии