Ubuntu MATE 16.10 Alpha 2
---
---
Этому посту больше года и, возможно, он устарел.
We are preparing Ubuntu MATE 16.10 (Yakkety Yak) for distribution on October 13th, 2016 With this Alpha pre-release, you can see what we are trying out in preparation for our next (stable) version.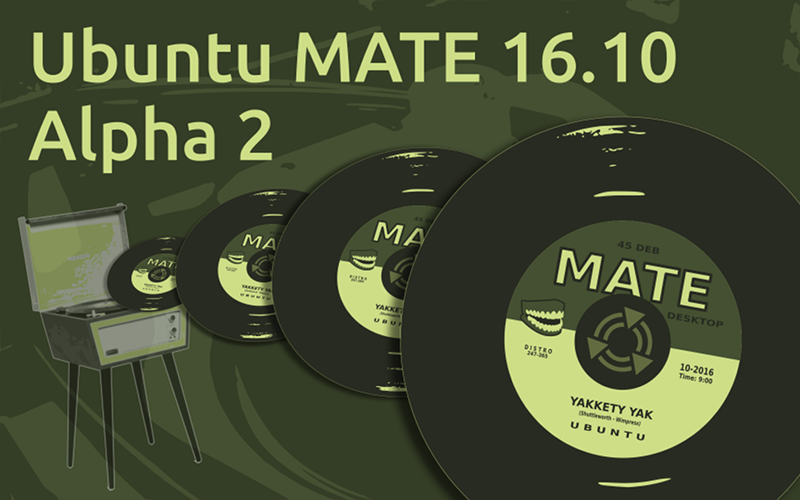 As is now customary, our release artwork was made by Ghost Sixtyseven.
What works?
People tell us that Ubuntu MATE is stable. You may, or may not, agree.
Ubuntu MATE Alpha Releases are NOT recommended for:
Regular users who are not aware of pre-release issues
Anyone who needs a stable system
Anyone uncomfortable running a possibly frequently broken system
Anyone in a production environment with data or workflows that need to be reliable
Ubuntu MATE Alpha Releases are recommended for:
Regular users who want to help us test by finding, reporting, and/or fixing bugs
Ubuntu MATE, MATE, and GTK+ developers
What changed since the Ubuntu MATE 16.10 Alpha 1 release?
First of all, Ubuntu MATE 16.10 Alpha 2 owes a debt of gratitude to:
This is what have been updated or added.
Added MATE Heads-Up Display (HUD)

Runs menubar commands, much like the Unity 7 HUD. Disabled by default, but can be enabled via MATE Tweak.
Once activated the HUD can be invoked via CTRL + ALT + Space.

Upgraded to MATE Tweak 16.10.4

Improved Indicator support with the introduction of the Message Menu.
Added option to enable the MATE Heads-Up Display (HUD)

Upgraded to MATE Dock Applet 0.73

Drag and drop rearranging of dock icons.
Redesigned the window list which appears when the mouse is hovered over a dock icon.
Window titles are ellipsized if they are too long.
Additional actions that the application supports are now shown at the top of the window list.
Pinning and Unpinning is now always shown at the bottom of the window list.

Upgraded to Ubuntu MATE Welcome 16.10.7

Auto focus the search text entry.
Updated translations.

Firefox now has a customised Ubuntu MATE Start Page.
Cheese has been re-instated as a default application.
Indicator Session has been re-instated in Ubiquity while installing Ubuntu MATE.
The .iso image is approximately 150MB smaller.
Download Ubuntu MATE 16.10
Join the fun and experience a retrospective future.
Download
Known Issues
Here are the known issues.
Ubuntu family issues
This is our known list of bugs that affect all flavours.
Choosing an Entire Disk install on PowerPC may result in an unbootable system.
R300 GPU accelerated graphics do not work on PowerPC
Ubiquity installer Slideshows and Ubuntu MATE Welcome display a blank window on PowerPC. This is due to a bug in WebKit 2.
Running Linux on PowerPC can require some tinkering and the following are useful references.
You'll also want to check the Ubuntu MATE bug tracker to see what has already been reported. These issues will be addressed in due course.
Feedback
Is there anything you can help with or want to be involved in? Maybe you just want to discuss your experiences or ask the maintainers some questions. Please come and talk to us.
Комментарии