Ubuntu MATE 16.04 for Raspberry Pi 2 and Raspberry Pi 3
---
---
This post is more than a year old and may be outdated.
Ubuntu MATE 16.04 images for the Raspberry Pi 2 and Raspberry Pi 3 are now available for download.
Download
Download Ubuntu MATE for the Raspberry Pi 2 Model B and Raspberry Pi 3 Model B.
Download
The image is built from the regular Ubuntu armhf base, not the new Snappy Ubuntu, which means that the installation procedure for applications is the same as that for the regular desktop versions ie using apt-get. However, since Ubuntu MATE 16.04 snap packages can be installed alongside classic deb packages.
We have done what we can to optimise the build for the Raspberry Pi 2 and Raspberry Pi 3, you can comfortably use applications such as LibreOffice and Firefox. Ubuntu MATE 16.04 also has fully working Bluetooth and Wifi on the Raspberry Pi 3. You'll need a microSD card which is 8GB or greater, the file system can be automatically resized to use the unallocated space of the microSD card via Ubuntu MATE Welcome. But the microSDHC I/O throughput is a bottleneck so we highly recommend that you use a Class 6 or Class 10 microSDHC card. The 16.04 release is also the first to feature hardware accelerated video playback in VLC and ffmpeg.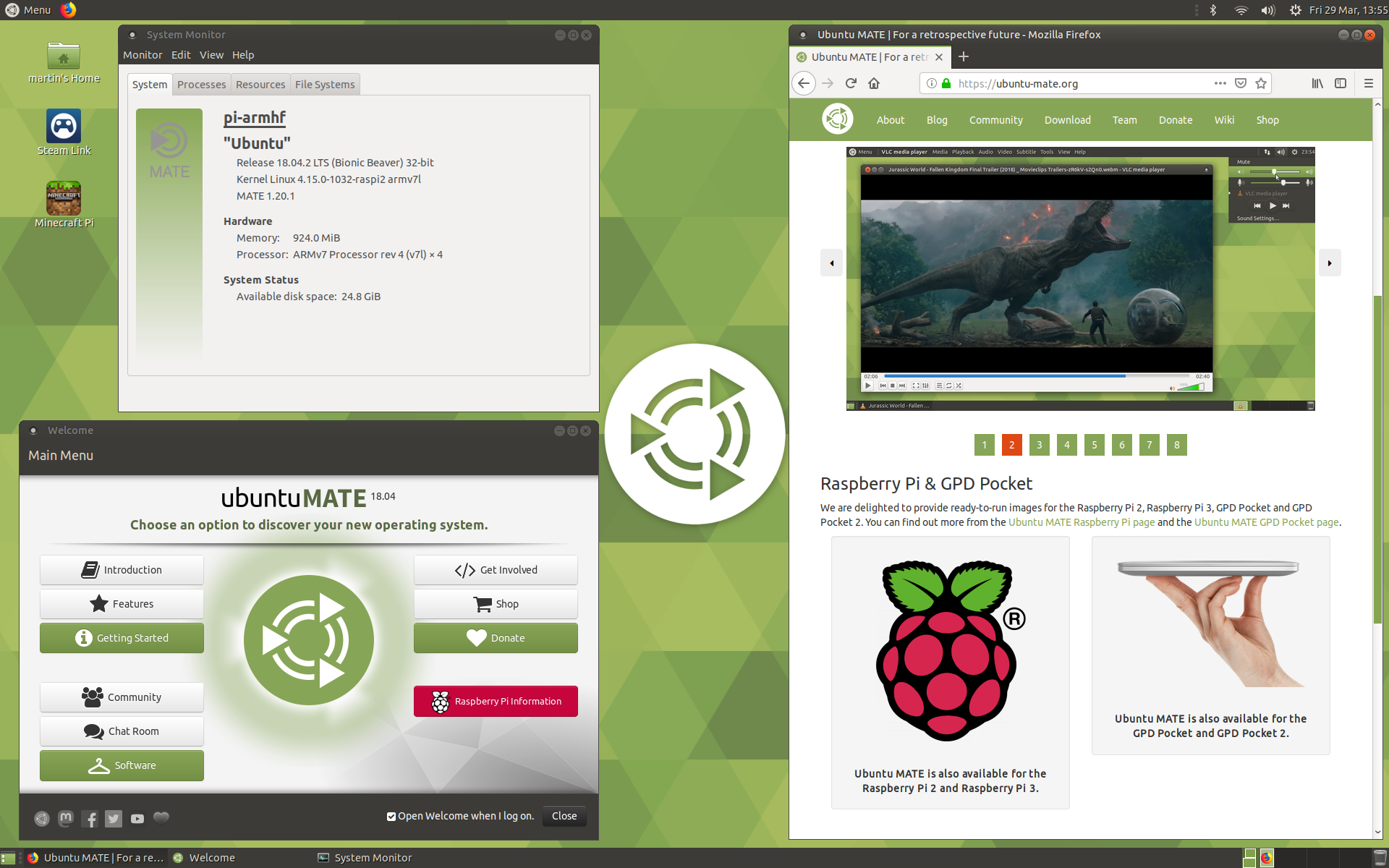 Ubuntu MATE 16.04 running on the Raspberry Pi 3.
Changes
2016-04-24 - 16.04 Final Release for Raspbery Pi 2 and Raspberry Pi 3
Added OpemMAX IL hardware accelerated video playback to VLC.

To enable hardware accelerated video playback go to Tools -> Preferences -> Video and select OpenMax IL.

Added MMAL hardware accelerated video playback to ffmpeg.

To use hardware accelerated video playback with ffplay you must specify the h264_mmal codec - ffplay -vcodec h264_mmal video.mp4

Increased the minimum microSDHC card size to 8GB.
Removed tboplayer.
2016-04-05 - 16.04 Beta 2 for Raspberry Pi 2 and Raspberry Pi 3
Updated to Ubuntu MATE 16.04 including the new Welcome which comes with Raspberry Pi specific features.
Updated BlueZ 5.37 with patches to support the Raspberry Pi 3 integrated Bluetooth.

Ubuntu MATE 16.04 now supports the on-board Raspberry Pi 3 Bluetooth and Wifi.

Updated to Linux 4.1.19.
Updated to raspberrypi-firmware 1.20160315-1.
Updated to omx-player 0.3.7~git20160206~cb91001.
Updated to wiringpi 2.32.
Updated to nuscratch 20160115.
Updated to sonic-pi 2.9.0.
Migrated configuration tweaks to raspberrypi-general-mods and raspberrypi-sys-mods.
Experimental hardware accelerated OpenGL can be enabled, if you know how ;-)
Known Issues
During first boot configuration Ubiquity does not prompt to join available WiFi networks.
Upon completion of the first boot setup WiFi doesn't work, at all. Reboot and WiFi will be available.
Both these issues will be addressed in Ubuntu MATE 16.04.1 for Raspberry Pi 2 and 3 which is due in late July.
Comments