---
---
Ce post est ancien de plus d'un an et pourrait être obsolète.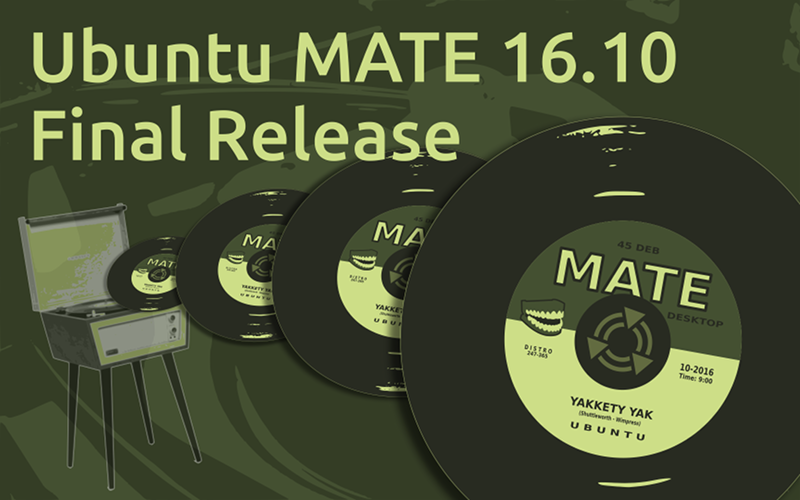 As is now customary, our release artwork was made by Ghost Sixtyseven.
It's GTK3+ baby, all of it!
Ubuntu MATE 16.10 is, more or less, a re-working of Ubuntu MATE from scratch, not just to accomodate GTK3+ but to also make most of the packages shipped by default with Ubuntu MATE "Recommended". This means most default applications can now be uninstalled without issue.

The work to port MATE Desktop to GTK3+ has been ongoing for a couple of years and Ubuntu MATE is the first major distribution to ship a full GTK3+ implementation of the MATE Desktop. And the absolute latest release too, MATE Desktop 1.16! Firefox and LibreOffice are also GTK3+ only in Yakkety.

This has been no small undertaking, we've changed toolkits twice this cycle. First from GTK 2.24.x to GTK 3.18, and then again to GTK 3.20. The themes required two significant upgrades during this process. We've also upgraded through three MATE Desktop versions this cycle, starting from 1.12 to 1.14, to 1.15 and finally to 1.16.

We originally planned to complete the migration to GTK3+ for the Ubuntu MATE 17.04 release, but thanks to those of you who have generously supported the Ubuntu MATE crowd-funding we've achieved that objective well ahead of schedule!

Ubuntu MATE have paid €5653 to Open Source developers working on MATE Desktop and Ubuntu MATE projects during the six months of the Ubuntu MATE 16.10 development cycle. You, the Ubuntu MATE community, have made it possible to complete the migration to GTK3+ half a year early!

Thank you all for your continued support!

Martin Wimpress, Ubuntu MATE Project Leader.
Download Ubuntu MATE 16.10
Join the fun and experience a retrospective future.
Download
What changed since the Ubuntu MATE 16.10 Beta 2 release?
This is what has been added, updated or removed.
Known Issues
Here are the known issues.
Ubuntu MATE issues
It is not possible to enable 'Hide proprietary applications' or 'Enable Bulk Queue' in Ubuntu MATE Welcome. (LP: #1632680)

A fix has been published and will be available via updates a few days after release.
You can also subscribe Software Boutique to updates (in the lower left of the Software Boutique window) and get the fix now!

MATE Optimus crashes on start-up if you have a nvidia hybrid graphics and the nvidia proprietary drivers installed. (LP: #1632685)

A fix has been published and will be available via updates a few days after release.
You'll also want to check the Ubuntu MATE bug tracker to see what has already been reported.
Ubuntu family issues
This is our known list of bugs that affect all flavours.
Booting the image on UEFI hardware may fail to complete, only showing a blank screen.

This is caused by an issue with the UEFI Shim and has been reported to fail on ThinkPad laptops as well as in QEMU virtual machines. Other devices may also be affected. This issue is expected to be resolved for the final release.
(LP: #1624096)

Choosing an Entire Disk install on PowerPC will result in an unbootable system.
Ubiquity installer Slideshows and Ubuntu MATE Welcome display a blank window on PowerPC.
R300 GPU accelerated graphics do not work on PowerPC
Running Linux on PowerPC can require some tinkering and the following are useful references.
Feedback
Is there anything you can help with or want to be involved in? Maybe you just want to discuss your experiences or ask the maintainers some questions. Please come and talk to us.
Commentaires